AUTHOR: PAUL CHAIN

TITLE: SATAN'S FUTURE







GENRE: sound sculpture / photography / visual art / spoken word / musique concrete / performative art / sound installation / electronic voice phenomena (evp) / transcommunication / esoteric / ambient music / expressionism / avant-garde / electroacoustic / field recordings / sound art / experimental / anti records / concrete turntablism / noise / dark ambient / contemporary art / nonmusic / abstract expressionism / surrealism / gothic / ritual dark ambient / conceptual art / drone music

FORMAT: 7 inch ceramic record / cd / box / anti-record

ARTWORK: 7 inch ceramic record / fine art printing / cotton / ground / fine art / paper / 7 inch folder / inserts

EDITION: limited edition / artist's multiple




Paul Chain
Satan's Future
1981
Dying Edition

Edizione d'arte a tiratura limitata: 50 esemplari numerati a mano e certificati.

Art Edition: Strictly limited to 50 hand-numbered copies with certificate of authenticity.

"Per me la morte è la base di tutto. [...] Anche il cimitero è un luogo molto importante per me; di esso ne ho sempre sfruttato tutto. [...] La gente ha un'opinione distorta del cimitero, crede che sia la porta dell'aldilà o chissà cosa; invece esso è solamente il posto dove vengono deposti i cadaveri, mentre l'energia si è già trasferita da un'altra parte. Quindi nel cimitero c'è questa assenza d'energia che col tempo sono riuscito a percepire e grazie alla quale ho capito molte cose". - Estratto da "Filosofia Viola", intervista a Paul Chain di Marco Cavallini, del 2 Aprile 1996, Sadsunmusic.com -

The Dying Edition. Sound mummification and the art of fixed sounds:
Hand made hard cardboard Box, Limited to 50 copies hand-numbered, Printed cotton fabric, 7 inch folder, Cd, Inserts, "C60% H6% O32% N2%", Hand printed b/w Photos, Ceramic record. All of the components of this edition are intended to die.

The recordings contained within, were selected from the "relative Tapes" for thir symbolic connectedness to other specific pieces included in four of the official albums released by Minotauro Records.

CERAMIC RECORD:
The ephemeral ceramic record is designed to dissipate as a result of being played. The sound waves contained within are consumed each time it is played on a turntable, until they have once and forever disappeared, and in their place will remain mute ash.
01 - Satan's Future (1981) 5:27
Ephemeral single sided record, 45 prm.

+

CD ARCHIVE TRACK LIST:

01 - Satan's Future (1981) 5:27
Paul Chain.

02 - Brain Sea (1984) 5:06
Paul Chain.

03 - Ghosts Of The Past [Spettri Del Passato] (1981) 14:05
Paul Chain: Sinth and Effects;
Milena Lanciaprima: Violin;
Giuseppe Cardone: Drum Machine and Percussion.

04 - Electric Line (1980) 4:20
Paul Chain.

05 - Oblivious Part 2 (1989) 5:15
Paul Chain.


+


Paul Chain (1977-2003)
Artistic death declared on April 5, 2003
This 'dying edition' represents the conceptual interment of this artistic 'body'.
Its final grave.



Reproduced with permission of the copyright owner:
Minotauro Records - Music from the labirinth | Marco Melzi.
Audio editing and re-mastering by: Elettroformati Milano.
Original Photos courtesy by: Fulvio Zagato | Paul Chain Official Fan Club.
Handmade printed photos by: Andrea Sozzi.

Concept and edition design, curating and manufacture by: RMEDL|SG
Published: April 5 2016 | Radical Matters - Editions/Label
Licensed by: Creative Commons.
Catalogue: RMLE085


LIMITED EDITION: 50 certified copies.
---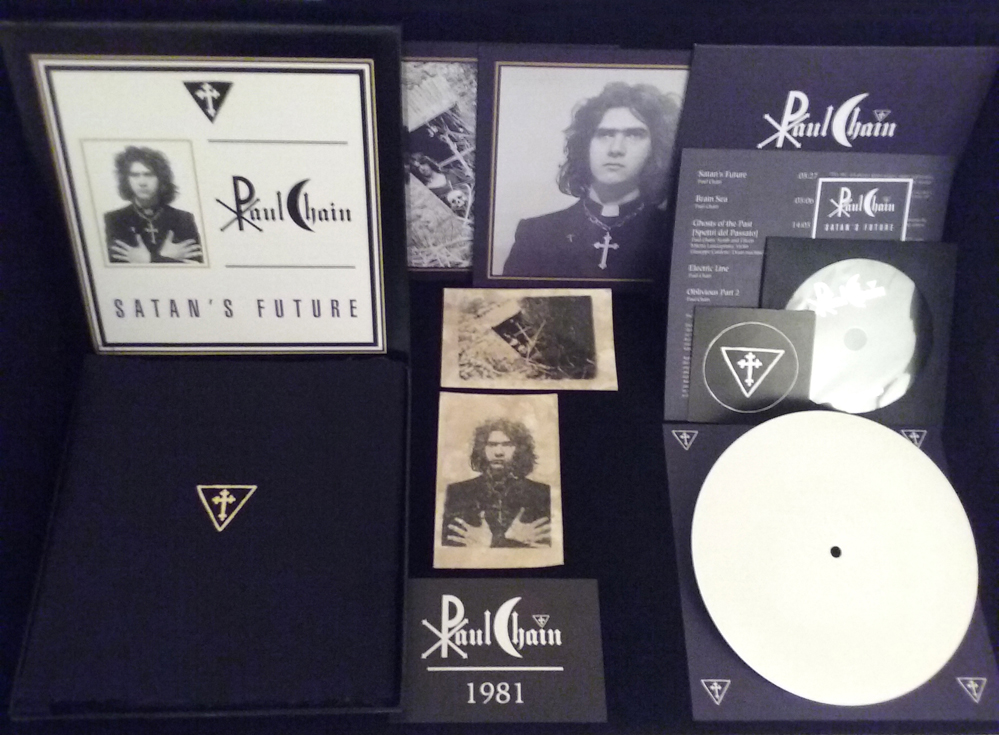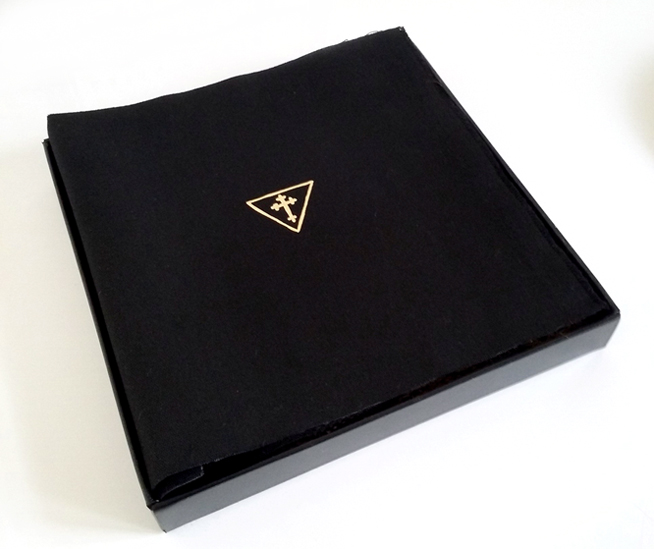 RELATED RELEASES:
---
Audio-catalogue.
Sound Corner 21 / Auditorium Parco Della Musica, Roma.
Audio-catalogue.
Akusmata Sound Art Gallery | Tukholmankatu 7 K, 00270 Helsinki, Finland.
Unique exemplar | Private collection
Paul Chain (1977-2003) dichiara la sua morte artistica il 05 Aprile 2003.

Lo scorso anno, per l'intero mese di Aprile, è stata presentata in anteprima, presso il Sound Corner dell'Auditorium - Parco della musica di Roma, la documentazione sonora del progressivo disfacimento fonografico dell'oggetto sonoro in ceramica contenuto in questa edizione "morente, concepita, assieme ad altri 4 multipli d'arte che seguiranno questa pubblicazione (il cui materiale originale, digitalizzato, si trova nel cd-archivio compreso nell'edizione), per rendere omaggio all'opera dell'artista Paul Chain, ed alla sua personale ricerca escatologica, l' "antica filosofia della morte o magia viola*".
(*da "Detaching From Satan")

Ogni parte di questa edizione concettuale è stata progettata seguendo i suggerimenti lasciati dall'autore, il quale crede fermamente che il potere nascosto di queste registrazioni dovrebbe essere lasciato morire. Questa "edizione morente" rappresenta così l'inumazione concettuale di questo corpo artistico, la sua sepoltura finale.

Questa edizione d'arte, e gli elementi che la compongono, sono stati progettati per deperire nel tempo, fino al loro completo disfacimento, alla loro totale consunzione, fino a svelarne la forma "sublime", per diventare così oggetto di pura contemplazione.

La particolare terra che compone l'opera, ricca di materiale organico, è l'elemento chimico catalizzatore di tale processo. Allo stesso modo, l'oggetto sonoro in ceramica contenuto nell'edizione, consumerà via via le onde sonore incise attraverso il processo stesso di riproduzione, che avviene per frizione meccanica della puntina del giradischi sul disco stesso. Lentamente, scompariranno ad ogni ascolto, lasciando solo mute ceneri. Questo nuovo "corpo artistico" così sublimato, potrà essere conservato ed ammirato nella sua nuova natura di reliquia.



The Dying Edition. Sound mummification and the art of fixed sounds:

DESCRIZIONE DEL CONTENUTO:
Fine art box-set realizzato a mano, stola in contone stampata oro, artwork formato
7 pollici, Cd archivio, stampe ed inserti, certificazione, "C60% H6% O32% N2%", disco bianco in ceramica realizzato a mano, 2 fotografie b/n stampate a mano.


OGGETTO SONORO / DISCO IN CERAMICA:
Satan's Future (1981)
Single sided record, 45 prm.


CD ARCHIVIO:
01 - Satan's Future (1981)
02 - Brain Sea (1984)
03 - Ghosts Of The Past [Spettri Del Passato] (1981)
04 - Electric Line (1980)
05 - Oblivious Part 2 (1989)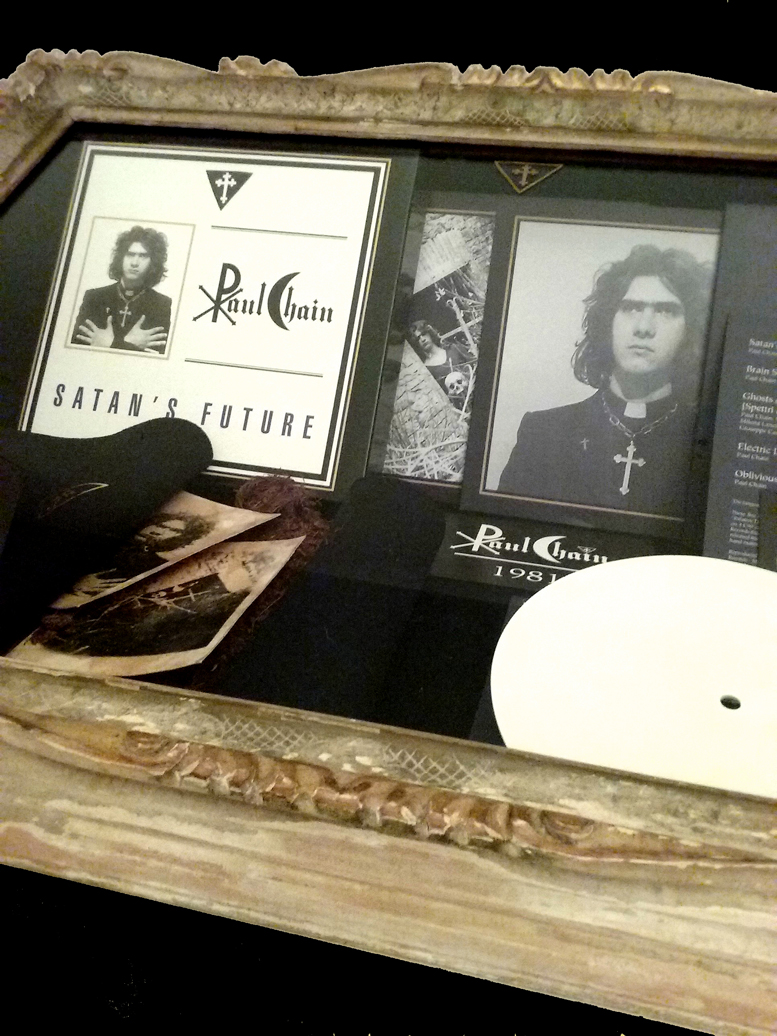 release details | audio samples >>

Catalogue: RMLE085

Licensed Licensed CC by nc nd 3.0