AUTHOR: CURATED BY: MEM1 | ED OSBORN

TITLE: MEM1 "SUSPENSIONS" & ED OSBORN "STONE NORTH"




WARNING: DUE TO TECHNICAL PROBLEMS THE AUDIO
CHANNEL IT IS CORRUPTED... SORRY FOR THE
INCONVENIENCE.

Date: SUNDAY SEPT. 15 | ONLINE LIVE STREAMING
H: 15.00 (USA) | 21:00 (ITA)
Location: 186 CARPENTER ST. | Providence, R.I. (USA)

LIVE EVENT:

MEM1 "Suspensions" (25':00'')
(Mark Cetilia: Live Electronics and Laura Cetilia:Cello)

ED OSBORN "Stone North" (25':00'')
(Live Electronics)


Curated by: Mark Cetilia | Estuary ltd.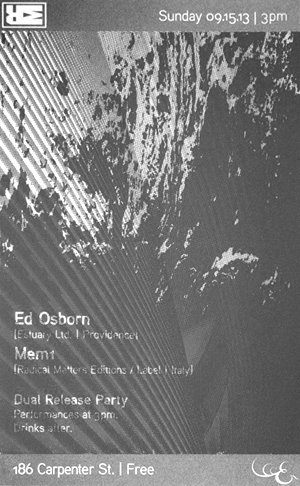 release details >>

Published: 2013

Catalogue: RMMS009

Licensed Licensed CC by nc nd 3.0



request info >>